Product Description
Description:
PLG series Continual Vacuum Disc Dryer a kind of high efficiency conducting and continuous drying equipment. Its unique structure and operating principle provide advantages of high heat efficiency, low energy consumption, less occupying area, simple configuration, easy operation and control as well as good operating environment etc. It is widely used in drying process in the fields of chemical, pharmaceuticals, agricultural chemicals, foodstuff, fodder, process of agricultural and by-products etc., and is well received by various industries. Now there are three big categories, normal pressure, closed and vacuum styles and four specifications of 1200, 1500, 2200 and 2500; and three kinds of constructions A (carbon steel), B (stainless steel for contact parts) and C (on the basis of B to add stainless steel for s team pipes, main shaft and support, and stainless steel linings for cylinder body and top cover).With a drying area of 4 to 180 square meters, now we have hundreds of models of series products and various kinds of auxiliary devices available to meet requirements of various products.
Barium sulfate is mainly used as a weighting agent for oil and natural gas drilling mud, and is also an important mineral raw material for extracting metal barium and preparing various barium compounds. Industrially important barium compounds are barium carbonate, barium chloride, barium sulfate, barium nitrate, etc. Barium compounds are widely used: as raw materials and fillers for rubber, plastics, pigments, coatings, papermaking, textiles, paints, inks, and welding rods; as raw materials for barium-based grease, oil refining, sugar beet, and rayon; As insecticides, sterilants, rodenticides, explosives, green fireworks, signal bombs, tracer bombs, medical X-ray imaging indicators, etc.; also used in glass, ceramics, leather, electronics, building materials, metallurgy and other departments. Metal barium can be used as a getter and binder for TVs and vacuum tubes. Alloys made of barium and metals such as aluminum, magnesium, lead, and silver are used to make bearings. Mordant for printing and dyeing, sizing agent and weighting agent for fabric, filler for papermaking, filler for fireproof fabric and leather, laxative for pharmaceutical industry and raw material for the production of gastric medicine magnesium trisilicate, esophagus, gastrointestinal tract X Radiographic diagnosis is used to produce fresh yeast, monosodium glutamate and calcium hydrogen phosphate stabilizer for toothpaste, and is also used to formulate plant hibernation prolonging agents. It is used in the preparation of crack-free plating solution in metal electroplating, as a conductive salt in nickel plating solution, and can also make the white surface of the coating soft. Used as a filler for adhesives, sealants, rubber, plastics, paints, inks, white pigments, insulating tapes, etc., it can impart X-ray opacity to rubber and plastic products, and can improve the flame resistance of neoprene rubber products. sex. Textile can be used as sizing agent. It is used as a surface coating agent in the production of photographic paper and Coated paper. The electroplating industry is used as a conductive salt for nickel plating solutions, which can improve the dispersion of electroplating solutions. Used as a clarifying agent in glass manufacturing, it has the functions of increasing gloss and defoaming. It is also a raw material for the manufacture of enamels, ceramics, pigments and other barium salts, as well as X-ray gastrointestinal contrast agents. Barium sulfate is widely used, and many manufacturers have paid attention to how to extract and dry it. Griffin has found through many case studies and years of drying experience that continuous Rotary Disc Dryer can extract dry barium sulfate very well.

Barium sulfate Vacuum Disc Dryer is an efficient conduction type continuous drying equipment. Its unique structure and working principle determine that it has the characteristics of high thermal efficiency, low energy consumption, small footprint, simple configuration, convenient operation and control, and good operating environment. It is widely used in chemical industry, medicine, pesticide, food, feed, agricultural Drying operations in industries such as by-product processing. It is well received in the practice of various industries. Now we manufacture three types of atmospheric pressure, airtight and vacuum, 1200, 1500, 2200, 3000, A (carbon steel), B (stainless steel evenly distributed in the contact material), C (on the basis of B, add a steam pipe The road, the main shaft and the bracket are made of stainless steel, and the cylinder and the top of the cover are lined with stainless steel). Three kinds of materials, drying area of 4~180m2, a total of hundreds of models of series products, and can provide a variety of auxiliary equipment to meet the needs of users for drying various materials.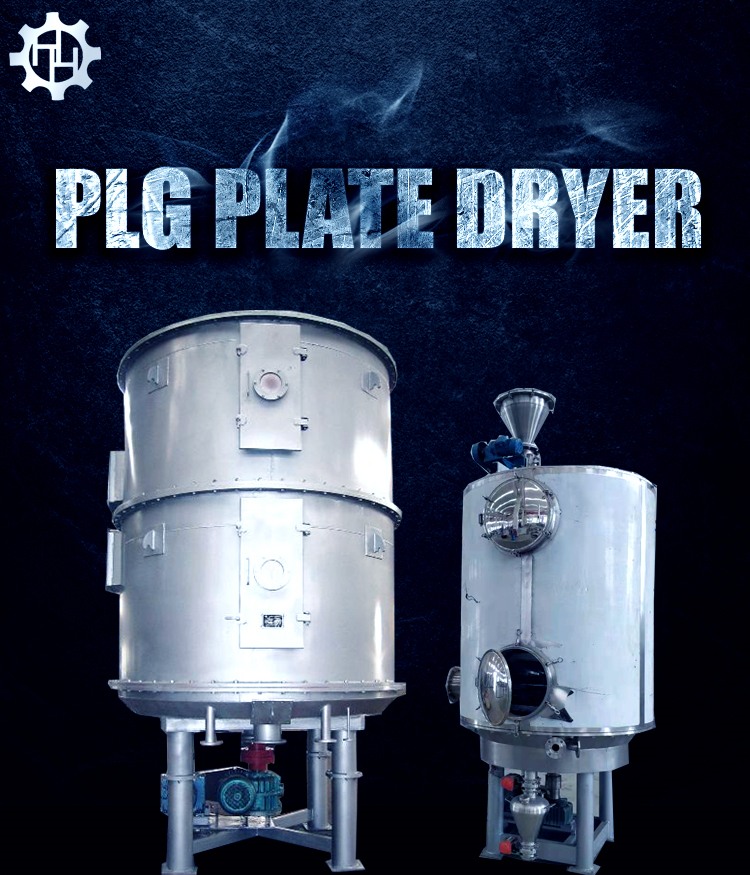 Wet materials are fed continuously to the top drying layer in the dryer. They will be turned and stirred continuously by harrows when the harrow's arm rotates, the material flows through the surface of the drying plate along the exponential helical line. On the small drying plate the material will be moved to its exterior edge and drop down to the exterior edge of the large drying plate underneath, and will then be moved inward and drop down from its central hole to the small drying plate on the next layer. Both small and large drying plates are arranged alternately so as materials can go through the whole dryer continuously. The heating media, which could be saturated steam, hot water or thermal oil, will be led into hollow drying plates from one end to other end of the dryer. The dried product will drop from the last layer of the drying plate to the bottom layer of the smell body, and will be moved by harrows to the discharge port. The moisture exhausts from materials and will be removed from the moist discharge port on the top cover, or sucked out by the vacuum pump on the top cover for vacuum-type plate dryer. The dried product discharged from the bottom layer can be packed directly. The drying capability can be raised up if equipped with supplementary devices such as finned heater, condenser for solvent recovery, bag dust filter, return and mix mechanism for dried materials and suction fan etc. solvent in those paste state and heat sensitive materials can be easily recovered, and thermal decomposition and reaction can be also carried out.


Product Characteristics:
I. Easy regulation and control, strong adaptability
*Regulate thickness of materials, rotating speed of main shaft, number of harrow's arm, style of and sizes harrows achieve best drying process.
*Each layer of drying plate can be fed with hot or cold media individually to heat or cold materials and make temperature control accurate and easy.
*Stay time of materials can be accurately adjusted.
*Single flowing direction of materials without return flowing and mixing, uniform drying and stable quality, no re-mixing is required.
II. Easy and simple operation
*Start and stop of dryer is quite simple
*After material feeding is stopped; they can be easily discharged out of the dryer by harrows.
*Careful cleaning and observation can be carried inside the equipment through large-scale viewing window.
III. Low energy consumption
*Thinner layer of materials, low speed of main shaft, small power and energy required for conveying system of materials.
*Drying by conducting heat so it has high heating efficiency and low energy consumption.
IV. Friendly environment, solvent can be retrieved and dust powder discharge can meet requirement.
*Normal pressure: as low speed of air flow inside the equipment and moisture being high in upper part and low in lower part, dust powder couldn't float to the equipment, so there is almost no dust powder in tail gas discharged from the moist discharge port on the top.
*Close type: equipped with solvent recovery device that can recover organic solvent easily from moist-carrier gas. The solvent recovery device has simple structure and high recovery rate, and nitrogen can be used as moist-carrier gas in closed circulation for those subject to burning, explosion and oxidation, and poisonous materials in order for safe operation. Especially suitable for drying of flammable, explosive and poisonous materials.
*Vacuum style: if the plate dryer is operating under vacuum state, it is particularly suitable for drying heat sensitive materials.
V. Easy installation and small occupying area.
*As the dryer is in a whole for delivery, it is quite easy to install and fix at site only by hoisting.
*As drying plates being arranged by layers and installed vertically, it takes a small occupying area though drying area is large.
Material to be dried:
Organic chemicals * Mineral chemical s *Pharmaceutical and foodstuff * Feed and fertilizer.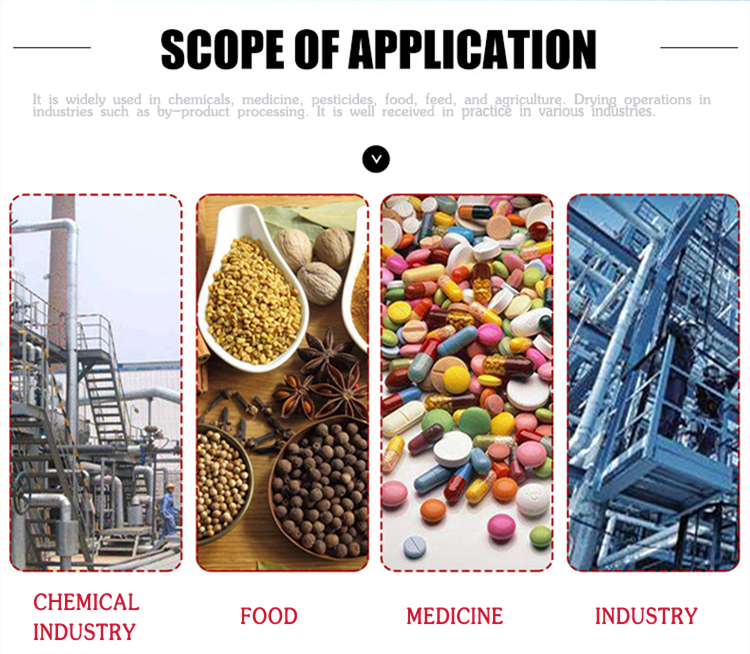 Griffin Technology Manufacturing Co., Ltd.
Griffin technology manufacturing Co,. Ltd, a factory with more than ten years experience of professional and technical industrial service. locates in Changzhou city of Jiangsu. Our company has 2 large modern construction machinery manufacturing plant, equipped with whole line of Sheet metal bending, laser cutting, automatic polishing, automatic welding, occupies an area of 500,000 square meters. Also we have our own R&D team, which has a number of talents and individual test lab. We are specializing in researching and developing drying machine, such as spray dryer, mesh belt dryer, fluid bed dryer, flash dryer, air stream dryer, vacuum dryer, plate dryer and so on. As auxiliary machines of drying machine, we also supply mixer, granulator, grinder and screener, roller compactor, air flow mixing system and air flow conveyor. With rich experience, we keep leading in design and manufacturing Chinese herbal extract spray dryer, flavouring spray dryer, hydrolyzed protein spray dryer, desiccated coconut drying machine, coconut meat mesh belt dryer, pharmaceutical spray dryer, vegetable and fruit dehydrator (mesh belt dryer), bread crumb fluid bed dryer, enzyme spray dryer, chicken powder production line, seaweeds drying processing line, gelatin production, WDG production line and so on. Based on keeping stable quality of drying, mixing, granulating, crushing and sieving machines, we actively research and develop new product, like roller compactor, airflow conveying and mixing system, vacuum belt dryer, try to supply turnkey projects to our customers.




Company Name: Griffin Technology Manufacturing Co., Ltd.
Representative: wanxingwei
Product/Service: Spray Dryer , Fluid Bed , Belt Dryer , Vacuum Dryer , Drying Equipment , Dryer
Capital (Million US $): 1170,000RMB
Year Established: 2002
Total Annual Sales Volume (Million US $): US$10 Million - US$50 Million
Export Percentage: 81% - 90%
Total Annual Purchase Volume (Million US $): US$5 Million - US$10 Million
No. of Production Lines: Above 20
No. of R&D Staff: 21 -30 People
No. of QC Staff: 51 -60 People
OEM Services Provided: yes
Factory Size (Sq.meters): 5,000-10,000 square meters
Factory Location: 198 Yunhe Road,Xinbei District,Changzhou,China
Contact Person: Mr. Frank
Tel: 86-17605290094